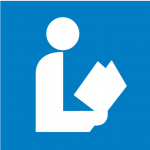 Parental Choice Library Book Restriction Form
Parents may utilize this form to restrict titles their child may check out in the school library. Please complete the form and return it to your child's teacher or librarian.
This form is only required when a parent is seeking to restrict access to materials in the media center.
Celebrate Literacy Week
 Students took a DIVE INTO BOOKS to wrap up January
! Here are the highlights from the week…
Monday
– Books by the Beach ~ Teachers let students read on beach blankets or outside. They read "beachy" books and answered questions written on beach balls.
Tuesday
– Surfing into Nonfiction ~ Teachers gave lessons centered around the books 
If You Take Away the Otter
 and 
Misunderstood Shark
. They took a virtual visit to the 
Monterey Bay Aquarium
 for 
some interactive learning.
Wednesday – Sea Who's Coming to Read ~ Mystery Reader Day! Students enjoyed visits from Mystery Readers. Even Jacksonville TV host, Mike Prangley, came in to read! 
Thursday – Author Visit ~ Students enjoyed a visit & presentation from ultra-marathon runner/author Dion Leonard and his dog Gobi. They listened to the amazing and unbelievable story of how he found Gobi, lost Gobi, and the adventures they continue to have. They even got to 
see Gobi chase down a ball!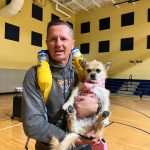 Friday
– Literacy in Action ~ Students had the opportunity to watch the middle school drama class perform Miss Nelson is Missing during their lunch time…all while wearing their best beachy atti
re.
January 2023 – Antarctica Awesomeness
Second grade students had the opportunity to Skype with a scientist who studies the Adelie Penguin colony in Antarctica. Students were able to see and hear these amazing flightless birds. They were able to learn from Jean Pennycook through a Q&A call to our southernmost continent. Check out the video links to these calls for an in-depth and immersive look at the Adelie Penguins! 
January 6th Skype Call – https://youtu.be/PCFnCEGhf9o
January 12th Skype Call – https://youtu.be/jPF3fqCfQZg