Gina Fonseca, Principal
Gina R. Fonseca is honored to serve as the Principal at Freedom Crossing Academy. Her educational journey began at the University of South Florida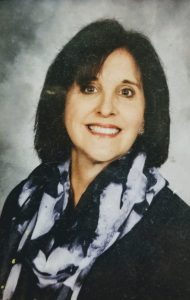 where she received a Bachelor of Science in Education and a Masters Degree in Educational Leadership. The day she stepped into the classroom, she knew there was no other place she wanted to be, connecting with students, sparking their curiosity, and challenging them to reach their goals.
Mrs. Fonseca served as a Human Relations Specialist supporting teachers and at-risk students, as an Assistant Principal in various capacities, and most recently, as the Director of Secondary Education, Curriculum for St. Johns County School District. Throughout her career, she has been committed to guiding, mentoring and supporting teachers, imparting best practices to inspire and teach children to reach their full potential.
Trust and positivity imbue her many attributes and are the cornerstone to the culture she embraces. She believes the education of our students is a collaborative effort and often quotes the saying "Students do not care what you know until they know that you care". By connecting with students to develop positive relationships, she strongly believes it leads them to discover what they have within themselves. These guiding principles have driven her throughout her career. Mrs. Fonseca is beyond excited to serve at FCA and looks forward to taking flight and breaking barriers with all of you!
---
Melissa Lime, Vice Principal
Melissa Lime serves as the Middle School Vice Principal at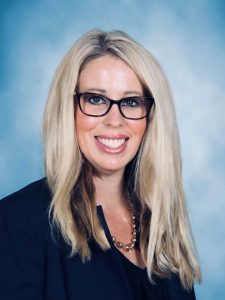 Freedom Crossing Academy, one of the newest K-8 schools in St. Johns County, Florida. In her 16+ years in K-12 education, Melissa has served students in St. Johns County School District as a classroom teacher, instructional literacy coach, coordinator for the International Baccalaureate Middle Years Program, curriculum coordinator, and assistant principal. Melissa has a track record of school success and has presented at state and national conferences in the areas of innovative instructional strategies, social and emotional learning best practices, and positive behavior interventions and supports. Her specialized areas of concentration include: school culture and climate, student engagement and motivation, instructional leadership, and inclusion best practices.
Melissa Lime's outstanding leadership and commitment to student success has been recognized at the local and national level. Melissa was recently recognized as the 2021 St Johns County School District Outstanding Assistant Principal of the Year. She is nationally recognized as an ASCD Emerging Leader and PDK Emerging Leader and represents St. Johns County's "40 Under Forty" young professionals who demonstrate outstanding leadership and commitment to the community. Melissa was also recognized by the White House during National Teacher Appreciation Week for her effective leadership during COVID-19 school closure. Melissa Lime is passionate about educating, inspiring, and empowering her school community to break barriers and achieve success.
---
Donny Hoessler, Vice Principal
Donny Hoessler is thrilled to serve as the Vice Principal of Elementary at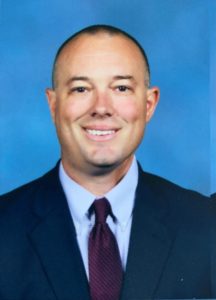 Freedom Crossing Academy. Mr. Hoessler graduated from the University of Central Florida with a Bachelor's Degree in Exceptional Student Education and obtained a Master's Degree in Educational Leadership from Saint Leo University. In addition, he holds a certification in Middle Grades Mathematics. Mr. Hoessler began his teaching career as an elementary ESE teacher in 2002 in Orange County Public Schools in Orlando, Florida. Prior to moving to St. Johns County in 2016 with his wife and three children, he taught middle school mathematics for ten years, served as a Math Coach, an Administrative Dean, and a Testing Coordinator during his time in Orlando. Mr. Hoessler has had the opportunity to serve in a leadership capacity in St. Johns County as an Assistant Principal at Julington Creek Elementary and Liberty Pines Academy.
Mr. Hoessler believes that all students can learn and a team of teachers working together are the key to unlocking their full potential. Fostering positive relationships, having high expectations for all students, and implementing cognitively engaging and motivating lessons are fundamentally essential to maximize learning experiences for all students. He also understands that it takes the contributions of all stakeholders to ensure a student's success. His leadership philosophy is weighed heavily in fostering positive relationships with all stakeholders, building capacity in the staff, and creating opportunities for shared leadership. Modeling these traits encourages a learning environment that is supportive of each other, maintains high expectations, and promotes a collaborative nature campus wide. He is proud to join the FCA family and ready
to continue the successful traditions of excellence through the Falcon Way! Take FLIGHT and Break Barriers!
---
Amy Rugen, Assistant Principal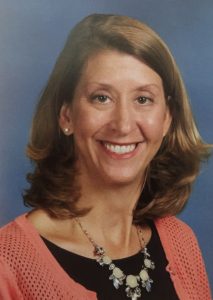 Amy Rugen is thrilled to join Freedom Crossing Academy and the St. Johns School District!  She comes with more than 20 years of educational experiences.  She previously served as an assistant principal in three elementary schools in Clay County.  Mrs. Rugen was also a literacy coach in Clay County and Duval County as well as a classroom teacher.  She received her bachelor's degree from the University of South Florida in Early Childhood Education and her master's degree from the University of North Florida in Educational Leadership.  She is passionate about literacy education, elementary curriculum, and collaborative teaching practices.  Mrs. Rugen believes a collaborative school environment with a focus on Professional Learning Communities is the key to creating a successful teaching and learning environment. Mrs. Rugen is proud to be an FCA Falcon!
---
Jessica Hamelin, Assistant Principal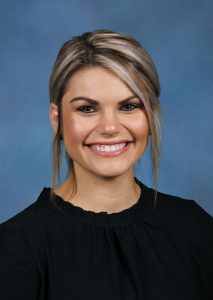 Dr. Jessica Hamelin is thrilled to join the administration team at Freedom Crossing Academy. Dr. Hamelin earned her Bachelor of Science Degree in Elementary Education and her Master of Education in Elementary Education from Jacksonville University as well as her Doctorate of Educational Leadership from The University of North Florida. Dr. Hamelin has served in various roles in St. Johns and Clay County Schools. Dr. Hamelin assisted in opening Palm Valley Academy in its inaugural year as the Instructional Literacy Coach and was also a classroom teacher, previously nominated for teacher of the year, as well as a Model Classroom Teacher, SAC Chair, Leadership team member, and graduate of the St. Johns County Leadership Academy. Dr. Hamelin also presented on a panel at the "Girls Can" event held in Putnam County, FL that promoted leadership and career readiness skills for 10th and 11th grade students. Dr. Hamelin brings a wealth of knowledge regarding the MTSS system, Professional Learning Communities, as well as Professional Development in Curriculum and Instruction in order to best serve students and teachers. Dr. Hamelin is passionate about collaborative learning, highly effective instructional practices, curriculum support, community involvement, and servant leadership. She is proud to be a Falcon!
---
Matthew Duggan, Assistant Principal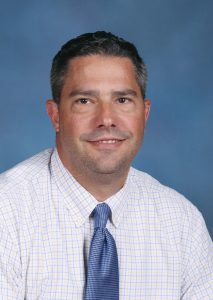 Matthew Duggan is excited to be named the newest Assistant Principal at Freedom Crossing Academy.  Mr. Duggan earned his Bachelor of Arts Degree in History and his Master of Education in Elementary Education from University of Florida as well as a Master of Educational Leadership from Saint Leo University.  Mr. Duggan has served in various roles in St. Johns, Duval, and Hillsborough County Schools.  Mr. Duggan most recently was the Testing Coordinator and Athletic Director at Patriot Oaks Academy.  He has also been a SAC Chair, Leadership Team member, and graduate of the St. Johns County Phase I Leadership Academy.  Mr. Duggan has also been a Dean in Duval County and has extensive experience teaching grades 4-8, for close to 15 years.  Mr. Duggan cares deeply about the safety and well-being of all students, especially in their social and emotional health. Mr. Duggan is about supporting collaborative learning, teacher support and servant leadership. He is proud to join the FCA administrative team.
---

http://resources.whyliveschool.com/guides/parentguide
---
About our School
School Established – 2018
School Location – Aberdeen community, St Johns County, FL
Area Served – Aberdeen and Rivertown Communities
First Principal – Allen Anderson
School Cost – $38 million, funded by the Half-Cent Sales Tax
School Mascot – Falcon
School Colors – Navy, Grey, Kelly Green
School Capacity – approximately 1,490 students
School Building – 190,000 square feet
Feeder Pattern High Schools – Bartram Trail HS & Creekside HS
School Design – The design is a modification of Patriot Oaks and Valley Ridge Academies with the addition of a third floor that houses 8 classrooms, 3 science labs, ESE classrooms, a Technology Lab, Business Lab, Skills Lab and Resource Room. Due to tremendous growth, 30 modular classrooms have been added.
Teacher of the Year 2018 – Matt Ostrowsky – St Johns County TOY Finalist
Teacher of the Year 2019 – Julie Haden – St Johns County TOY Finalist
Teacher of the Year 2020 – Jessica Brown
Teacher of the Year Middle School 2021 – Jill Loughran
Teacher of the Year Elementary 2021 – Ashley Anderson
Rookie Teacher of the Year 2019 – Ashley Alford
Rookie Teacher of the Year 2020 – Alyssa Gavron
Rookie Teacher of the Year Elementary 2021 – Karina Ringdahl
Rookie Teacher of the Year Middle School 2021– David Zeinert
School Related Employee of the Year 2018 – Staci Boyer – SJC Employee of the Year
School Related Employee of the Year 2019 – Katie Richards
School Related Employee of the Year 2020 – John Reed
School Related Employee of the Year 2021 – Sean Eaton
School Mission Statement: "Falcons take FLIGHT"
The letters in FLIGHT encompass qualities that we want for our students and staff = Focus, Leadership, Imagination, Grit, Heart, and Team
School Vision Statement: "Breaking Barriers"
It is our goal for our students, staff and school to 'break the barriers' that are holding us from the next step in our dreams and achievements.  These could include such things as the fear to fail, misconceptions, a fixed mindset, self-esteem, etc.
School Logo: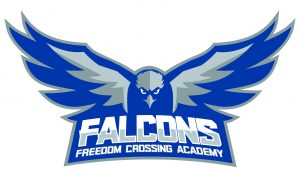 ---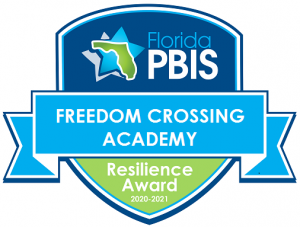 We did it again!
Time to celebrate! Freedom Crossing Academy has been recognized for our resilience in implementing a school-wide Positive Behavior Interventions and Support (PBIS) framework during the 2020- 2021 school year. PBIS is a set of strategies based in behavioral and biomedical science that enhances student quality of life and reduces problem behaviors. National research shows that full implementation of this framework leads to improved student outcomes. By establishing this framework, we are developing student skills, making changes to the school environment, acknowledging appropriate student behavior, and using data to identify needed supports for our students. As a result of this work, we are being recognized by the FLPBIS Project for achieving PBIS Model School status. This award demonstrates our commitment to the effective implementation of PBIS, our successful LiveSchool Reward System, and our efforts towards achieving positive and equitable outcomes for all students. To learn more about the FLPBIS Project's Model School program, visit www.flpbis.org
---
Falcons In the News:
Creekline: "Falcons Soar Through their First Year"
http://www.floridanewsline.com/creekline-st-johns/freedom-crossing-falcons-soar-through-first-year/
Who are the Funky Falcons?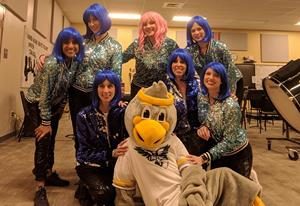 Funky Falcons all started with a fun, simple idea. "Let's do a flash mob for our students." We got together and decided on fun outfits and found the perfect song to dance to at our first home basketball game. It was so much fun that we had to do it again. Since then, we have performed many more times and gained new members each time. Funky Falcons consist of teachers, faculty members, and administration.  We are dancing through barriers!