St. Johns County School District conducted an intensive process of community collaboration, that began with three Town Hall Meetings in September of 2017.  After much community input and the development of multiple plans, the School Board approved the attendance zones for K-8 Schools KK and LL on November 14th.
View the 2018-2019 Attendance Zoning For School "LL"
School "LL" (Freedom Crossing Academy) is scheduled to open for grades K-6.  Students, who were rezoned, but are going into grades 7 and 8 will continue to attend their current school.  Please see the following information on Grandfathering.
We now have a mascot!!! Welcome to the home of the Falcons !!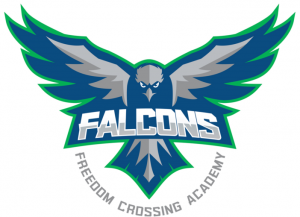 Upcoming 5th grade students should use the Patrol Application that their current school is providing.  They (CCES, DCES and HCES) will forward these applications to us.  If you are new to our school please send in the form below.
Safety Patrol Application 2018-2019
Supply Lists :
Supplies will be available to purchase from the PTO.  If you would like to use this very convenient option all the supplies will be delivered to your home prior to the start of school.  Once this option is available we will add a link to this site.
The supply list has been added as well for your information.  A sixth grade list will be added in the near future.
FCA K-5 Supply List for 2018-2019