Requirements for Registration
Birth certificate/Guardianship Documents
Documentation of a health examination performed on or after August 11, 2017
Proof of completed required immunizations on Form DH680
Proof of residence per the Residency and Guardianship Policy located at stjohns.k12.fl.us/student/residency/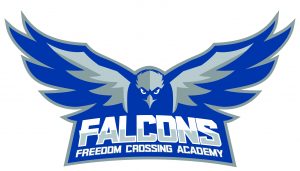 Come Register your Future Falcons!!
2018-2019 School Year
Freedom Crossing Academy
For registration information please contact:
Michelle Leonard, FCA Registrar
We will be located at Creekside High School beginning May 30, 2018
Please contact Mrs. Leonard to schedule a registration appointment.
ALL required documents must be presented at the time of registration, partial documents cannot be accepted. A physical health exam must be dated 8/11/17 or after and required Immunizations must be complete and on the FL680 certificate. Lease or rental agreements must not expire before 8/11/18.
*If your child currently attends a St. Johns County School and is being re-zoned to FCA, there is no need to register for FCA.  Records will moved to FCA from the previous school.
**ALL students entering the 6th grade must provide their current school with three current proofs of residency.