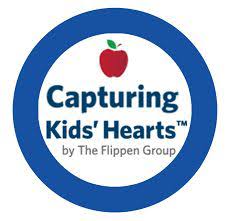 When Freedom Crossing Academy K-8 opened its doors in 2018, a new team of administrators, educators, and staff had a unique opportunity to do something extraordinary: create a positive school culture. At Freedom Crossing Academy, we believe in fostering positive relationships among with all staff, students, and families and creating a safe and positive school culture focused on three goals. These goals include creating a healthy learning environment utilizing the Capturing Kids Hearts process, promoting teacher collaboration and student achievement through Professional Learning Communities, and fostering a positive school culture with the LiveSchool incentive program.
Capturing Kids Hearts
Our goal is for all students to feel connected, supported, and valued every day. Research states, "If a child has an appropriate relationship with a mature, responsible adult at home or at school, it is protective against virtually every adolescent risk factor including school absenteeism, intentional personal injury, violence, and academic performance" (Resnick et al, 1997: JAMA; CDC, Resnick replicated study, 2009). The Capturing Kids Hearts process allows us to stay connected to our students and tend to their social and emotional needs.
On a typical morning, music and dancing fill the hallways. Students and staff greet one another with friendly smiles and high fives. Teachers also greet students when they enter the classroom. Our students share "good news" during their morning meetings and begin each day with a launch of the school's vision and mission statement.
In every classroom, teachers and students create social contracts to promote a family-friendly atmosphere and positive learning environment. The social contract, a signed agreement between teachers and students, promotes a self-managing, highly effective learning environment of productive relationships, teamwork, and leadership. Daily group roles help students develop leadership skills and responsibility. During each lesson, the social contract becomes a tool for community building and positive behavior within the classroom. Students receive recognition for demonstrating these expectations from both their teachers and peers. Each year, the staff also creates a social contract to foster a culture of norms, expectations, and commitments for how we will positively interact, communicate, and engage with each other.
Freedom Crossing Academy is cultivating a culture where relationships are the heart of everything we do. Our core beliefs and practices have helped us stay connected to our students, families, and staff, especially during these unprecedented times.