---
 
Happy Holidays to all!
STudents return thursday, January 6, 2022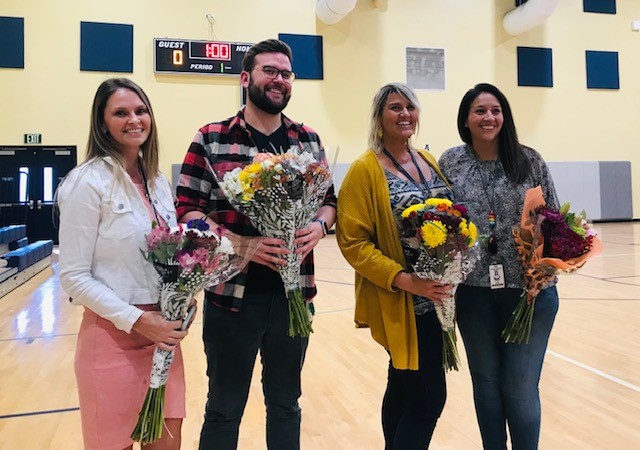 Congratulations to our Outstanding Falcon Teachers!
2021 Middle School Teacher of the Year is Jill Loughran (6th grade ELA) and 2021 Elementary Teacher of the Year is Ashley Anderson (Kindergarten).  Rookie Teachers of the Year are Karina Ringdahl (3rd Grade) and David Zeinert (6th & 8th Grade History).  We are so proud of these amazing educators!
---
We did it again!
Time to celebrate! Freedom Crossing Academy has been recognized for our resilience in implementing a school-wide Positive Behavior Interventions and Support (PBIS) framework during the 2020- 2021 school year. 
Important Student/Parent Covid Information & Protocols for 2021-2022
---
REMINDER:  Review the Health Questionnaire daily with your student.  Students MUST stay home from school when they are ill, awaiting COVID-19 test results, or if anyone in the household is COVID-19 positive.  Thank you for partnering with us to help protect the safety of all students and staff.
PARENTS: To report a positive case of COVID-19, please first call the DISTRICT COVID TEAM AT 904-547-8230 for guidance on next steps. 
To report either a student's positive test result or that your student needs to quarantine since they are a close contact, please click on the appropriate link below to complete a short online reporting questionnaire.  Our nursing staff will contact you if they need additional information:
Report a Close Contact to be Quarantined
---
Please refer to our district website for any covid-related information and updates:  https://www.stjohns.k12.fl.us/covid-19
Office Hours
7:30 am – 3:45 pm
School Hours
8:25 am – 2:45 pm 
(M, T, TH, F)
8:25 am – 1:45 pm (W)

Falcon Families, Schoology is our learning management system for all learners at FCA this year.  All students should have an account. The document below may be helpful if you are having trouble logging in.
Just a reminder that starting December 1st the St Johns County School District will return to normal food service operations and therefore students and staff will once again be charged for Breakfast and Lunches provided by our cafeteria. Parents will need to add funds to their child's/children's lunch accounts so that student will be able to purchase breakfast or lunch. Parents/Guardians can add money to the student's account electronically by using the following link https://www.stjohns.k12.fl.us/food/paypams. This is the preferred method for payment.  If you don't already have a PayPams account, you can set one up to add funds to your child's account electronically.
Parents/Guardians may also send money in via check. (Please be sure to include the student's name, teacher, and grade with the check, so that it is deposited to the proper student's account.) 
To see if your child qualifies for "Free or Reduced" lunch prices, online and printable applications are located on the SJCSD website at: https://www.stjohns.k12.fl.us/food/free.
Beginning Wednesday, December 1, 2021, Meal prices for Elementary (K-8) will be as follows:
Breakfast: Full Paid = $1.25
Reduced Paid =  $0.30
Elementary Lunch:
Full Paid =$2.80 
Middle School Lunch = $2.90
Reduced Paid = $0.40
More New Videos Coming Soon!
District Field Trip Policy
Any person coming into the school or attending a field trip MUST have completed the School Access Form (formerly known as the Volunteer Application).  There will no longer be an option to allow people to come in one time as a visitor. You only need to complete the form one time while your child is in the St. Johns County School District. Please complete the School Access Form.
Attention Parents of Current Sixth Graders
**Parents, please be aware that the State of Florida requires all rising 7th graders to have the Tetanus-diphtheria-acellular pertussis (Tdap) Immunization. Please schedule your doctor's appointment soon to receive your student's updated Florida DH 680 Form. Once you obtain this form, please provide it to us as soon as possible to ensure a smooth transition into 7th grade.
Bringing a Device From Home?
This is just a reminder that anyone (parent, guardian, friend, neighbor, aunt, uncle) must have school access to attend an event at Freedom Crossing Academy, have lunch with a student and/or attend an awards assembly. If you have not already done so, please complete the School Access Form. The process for approval may take up to 4 weeks, so please fill out the application sooner than later for any guests that would like to have school access. Once the application is approved, school access will be valid for three years.
FortifyFL is a website and app developed at the direction of the Florida Legislature. Any student, educator, parent or member of the public can report school safety concerns directly to law enforcement and school administrators anonymously and easily through the FortifyFL app or getfortifyfl.com.
2021-2022 Instructional Materials Adoption for Mathematics UPDATE
St. Johns County School District curriculum department representatives and adoption committee members have completed the review process for the Instructional Materials Adoption for Math. On January 25, 2022, the School Board will conduct a public hearing to receive comment from the community regarding the final list of recommendations for instructional resources for this adoption. The public is invited to attend this hearing. The hearing will be held at 9:00 a.m. in the auditorium of the District Administrative Building located at 40 Orange Street in St. Augustine.
We encourage parent and community participation in our adoption process. Please visit our Instructional Materials Adoption web page to:
View the resources that are being considered for adoption.
Find out how to serve on a school committee and formally review the resources as a part of the school review team.
Learn more about the policies and procedures for textbook adoption.
B.E.S.T. Standards Presentation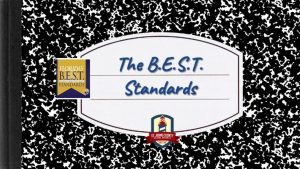 The purpose of the video is to provide parents and community members with information about the new B.E.S.T. Standards for English Language Arts and math. The video also explains the timeline for the implementation of the new standards.
View the B.E.S.T. Standards Presentation
Apply Now for the SJCCA Program at R.J. Murray Middle School
Families of Current SJCSD 5th Graders,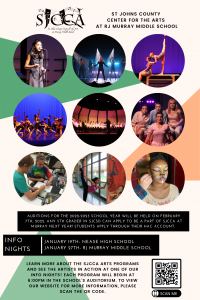 All rising 6th grade students are eligible to apply for admission to the award-winning St. Johns County Center for the Arts (SJCCA) at R.J. Murray Middle School. For over 20 years, SJCCA has been a county and state leader in arts instruction. SJCCA students consistently receive the highest ratings and awards at regional and state competitions. Students who attend SJCCA programs have the opportunity to learn and perform at prestigious locations including the St. Augustine Amphitheater, Broadway, and Walt Disney World. SJCCA students often continue to future arts success at prestigious post-secondary institutions.
To learn more about SJCCA, please visit the MMS SJCCA website or attend one of the following informational sessions:
Tuesday, January 18th at 6pm - Virtual Meeting
Wednesday, January 19th at 6pm at Allen D. Nease High School
Thursday, January 27th at 6pm at R.J. Murray Middle School
Ready to Apply?
All rising 6th graders may apply by completing the general application in
Home Access Center (HAC)
until
February 10, 2022.
Auditions at R. J. Murray Middle School will occur on February 7, 2022.
Apply Now for a High School Career Academy / Program of Choice
Families of Current SJCSD 8th and 9th Graders,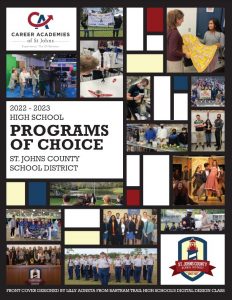 Students in 8th and 9th grade may apply for enrollment in a Program of Choice for any of the St. Johns County School District high schools.
Programs of Choice include high school Career Academies, IB and AICE acceleration programs, JROTC, Early College Program, and the St. Johns County Center for the Arts (SJCCA) at St. Augustine High School.
To learn more, please visit the Career & Technical Education website.
Ready to Apply?
All current 8th and 9th graders may apply by completing the general application in
Home Access Center (HAC)
. Eligible students who are currently attending a private school, home school, or a virtual school may also
apply to a Program of Choice
. The deadline to apply is
5pm on February 10, 2022.
The letters in the word "FLIGHT" stand for Focus, Leadership, Imagination, Grit, Heart, and Team.
It is our goal for FCA students, staff and school to 'break barriers' that are holding us from the next step in our dreams and achievements.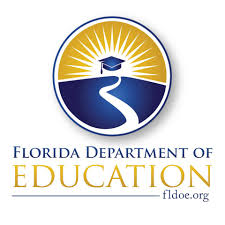 "A" School Designation 2019
Freedom Crossing Academy received an "A" grade from the Florida Department of Education in 2019.